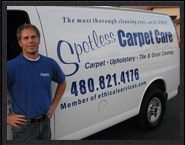 You love to sit and rock your new baby in your favorite upholstered rocking chair. Yesterday, your new born daughter spit up all over the chair while you were holding her and it is stained and smelly. You tried to scrub away the smell with store bought cleaners, but the chair is still stained and smells awful.
Before giving up and thinking about throwing away your chair, give us a call. We are an expert upholstery cleaning company that will remove the stains and stench from your favorite chair and will make it look and smell like new again.
Our cleaning agents and methods are very effective and will get rid of the stains and will not fade or discolor your upholstery. Plus, we will add fresh smelling deodorizers that will eliminate the stinky odor. When they finish cleaning your chair, it will look and smell refreshed.
If you want to keep your favorite chair and want it to be completely restored, it would be a good idea to contact our well established and reputable upholstery cleaning company today.
Our company has been in existence for many years and is an expert in cleaning upholstered furniture. We guarantee that our skilled technicians will thoroughly and safely clean the stains and will get rid of that terrible smell, which make your rocking chair look like new again.
In your area, you will not find a better or more dependable upholstery cleaning in Scottsdale, AZ, which is why you should get in touch with us today and schedule an appointment.

We will get back to you with more information