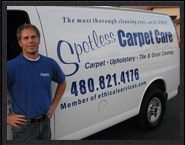 In life spots are a fact and you have to be prepared. Ensure that you are equipped with the right tools to remove the spots on the carpet. Also ensure that you know the right way of cleaning. Otherwise if you do not use the right cleaning method you will spoil your carpet. If you are going to use a sanitize solution to remove the spots, it is prudent that you carry out a spot test to ensure that there is no discoloration that is going to occur before applying. If you are planning to use a machine pre-treating the area first will provide positive results.
There is no carpet which is stain proof but most of them are stain resistant. Paying attention to the spots is vital. Here are some of the instructions that you need to follow when removing spots:
Absorb the stain using a white towel. Then bolt the place using white towels dampened with cool water until there will be no transfer of the stain on the towels.
Avoid rubbing because a fuzzy area may result. Remove any residue thoroughly after you have finished cleaning.
There are various ways that you can remove spots in Scottsdale, AZ on carpets but it is important that you follow the right method. If the process of removing spots becomes difficult it is imperative that you hire professionals. Professionals will come with the right tools and possess the necessary expertise needed to do a thorough job. Moreover, you are relieved to concentrate on matters.
While selecting a carpet cleaning company, ask which materials they use, know the kind of staff the company employed and inquire about past work.

We will get back to you with more information