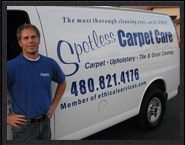 Sometimes things get spilled leaving an unsightly stain on the carpet, or even the furniture. When this happens the best thing to do is get the stain out as quickly as possible. However if you are not sure how to do that correctly or have the right materials to get the job done, you could only make it worse. Covering it up won't help either as the stain is still going to be there when you move the furniture around.
What you need instead are some professional carpet cleaners that know how to handle cleaning all types of carpets. These are the people to call when you have need of basic cleaning service for any room in the house. They can handle the entire house as well if needed, which is typically what is recommended so all your carpet will match in cleanliness.
Our carpet cleaners in Scottsdale, AZ know how to handle all types of grime as well as stains and can get your carpet looking like new again, no matter how old it is. When you have need of a small job or a large job there is only one place to call, and that is for our carpet cleaners to come take care of your home.
We can handle businesses and apartments as well as no job is too big or too small for us to handle. Every carpet cleaner we have is professionally trained in dealing with carpets, but they also know how to respect your home and your family at the same time. We have what it takes to clean your carpets and all you need to do is pick up the phone and give us a call. Let us show you what you carpet should look like.

We will get back to you with more information